Web Design
Tailor made websites
Over 10 years of designing & building websites
Bespoke designs tailored to you
User friendly URLs (e.g, mydomain.com/page)
Mobile & tablet support as standard
Search engine optimisation (SEO) included
Optional domain & hosting services
Option of website control panel & content management
Option of website maintenance subscription
All websites designed & created by TLC Technologies are built from the ground up using HTML5 & CSS3. We do not believe in template designs; yes they are relatively quick and easy to set up, but do they set you apart from the competition? A bespoke design allows you to stand out from the crowd, nobody likes a copycat! Along with the design & development of websites, we can also guide you with domain name registration & suitable web hosting services.
When it comes to design, we let you decide

If you have your own ideas on what you want your website to look like, we can make it happen. If you would prefer us to design your website, we'd be happy to. Whatever your website design ambitions are, we will do our utmost to achieve them. Mobile & tablet support now come as standard with all new websites.

SEO (Search Engine Optimisation)

With more and more people turning to search engines for their everyday needs, websites need to be SEO-friendly. All websites created by TLC Technologies are constructed with SEO in mind.

Want to make your own changes?

All our websites come with the option for a built in control panel which allows you (the client) to update main website content instantly from within a web browser. This means no more service requests for page creation, updating or removal. Simply log in to your secure area and make those changes yourself with the simple admin tools.

...Or let someone else do the work!

If you would prefer we look after your website and content, we can do so for a small monthly charge. This service includes any changes you wish to make (content or structural) as well as any new system updates (to improve website performance) and SEO maintenance.
How We Work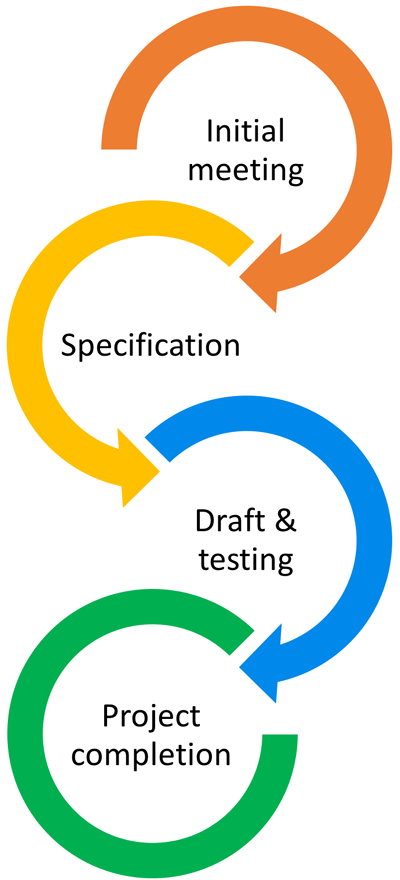 In the initial meeting we will discuss ideas and form a strategy. We value your input, the most important part of the process is for us to understand your needs and requirements.
Following on from the initial meeting, we will set about producing a project specification tailored to you. This will include the initial design, wire-frames & site map. Any other features mentioned in the initial meeting will also be included in the project specification.
Once you are happy with the project specification, we will go ahead and build a draft website. This will be private between you and us while we fine tune it. At this stage, your feedback is invaluable for producing the final product.
After drafting, testing and tweaking, a working model of your website will be ready for review. Upon receipt of payment, it will be released to you. If necessary, we can provide domain name registration & hosting; or point you in the right direction if you prefer.
Contact us with your requirements and a member of the team will be in touch to discuss your ideas